York Laurent has built a reputation as a premier Birmingham letting agent acting on behalf of UK, overseas and corporate Landlords and Investors. We attract a high calibre tenant with a wide selection of city centre apartments and rental properties. With our intimate knowledge of the Birmingham property market gained over the past twenty years we are known for the quality of our rental listings and for achieving the best possible market rents in the shortest time on behalf of our Landlord clients.
Letting Your Birmingham Property With Speed and Ease
Established letting agency brand with exceptional local marketing coverage of Birmingham city centre and surrounding suburbs.
Free "No Obligation" letting appraisal.
Competitive fees for both our "Let Only "and "Let & Management" services.
Alerts for registered, prospective tenants in accordance with their personal letting criteria.
Fully trained letting consultants with in-depth knowledge of the local letting market and the ability to achieve and negotiate the best possible market rent.
Properties listed and showcased on leading UK property portals.
Weekly exposure of available properties "To Let" through UK and Overseas social media.
Direct targeted marketing campaigns to get your property noticed
Support and advice given to achieve the very best presentation of your property.
Our brand known to relocation, HR, and the regions most respected companies looking to accommodate their employees.
Comprehensive property letting and management service using award winning Jupix management and agency  software.
Accompanied daily viewings available evenings and weekends and online video tours.
Presentation of Your Rental Property
First impressions count, and the presentation of your rental property is key to helping us find you a tenant fast and secure you the best rent possible.
Take note of the decorative condition of your property both inside and out and the presentation of any outside spaces (gardens, balconies, driveways etc.). Spending money on decoration, repairs and professional cleaning may not be top of your to-do list when you are considering a move but remember that the first impression your property gives to a prospective tenant may be the key to achieving a speedy letting complete with the rent you desire.
Remember that we will want to produce a video and  take photographs of your property for letting listings on UK's leading property portals and for social media. The impression the video and  photographs taken will have a bearing on the number of enquiries you will receive for viewings, so make sure the property is presented in its very best light before a video is shot and photographs are taken.
We will be happy to talk about the presentation of your property when we attend to prepare details, and we will make you aware of any concerns we have so that they can be addressed before viewings commence.
A well-presented home instils invaluable confidence in both the Landlord and the letting agent when prospective tenants are viewing the property. In turn, it helps prospective tenants to imagine the attractive space as their own.
We offer Landlords a wealth of property management experience gained over the past twenty years and continue to develop a property management service to a standard that meets today's specific requirements of residential living.
We strive to deliver a management service to meet the day to day maintenance requirements of both the Landlord and Tenant and have invested in an online method to improve communication between tenants and us as managing agent. This is a 24/7 maintenance reporting system which allows tenants to report problems immediately and in turn improves our management response time to remedy issues.
It is our key objective that the Landlord's property is maintained and protected throughout the term of a tenancy.
24/7 Online repair reporting system
We have invested in a 24/7 online repair reporting service to help protect your property around the clock
Our guided process
Our guided process gets us the information we need to increase first time fixes and save money
40 languages available
The system is available in over 40 languages so messages don't get lost in translation
In-built advice
In-built advice for emergencies for lease holders and tenants to protect their property and development.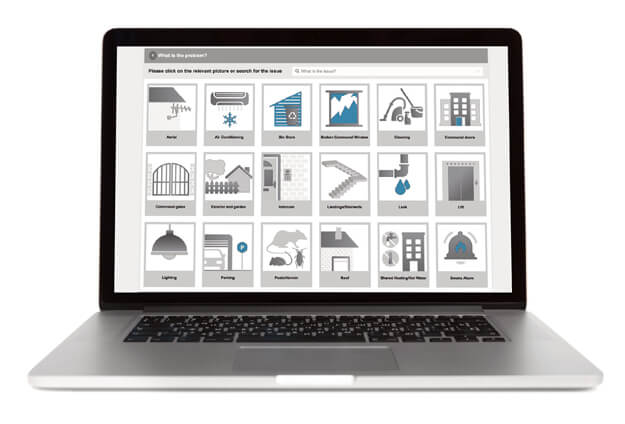 As Letting Agents, we place a strong emphasis on demonstrating to our Landlords and Tenants that we conduct ourselves in accordance with the latest government legislation and we adhere to professional codes and standards of estate agency practice through the memberships we have.
We use the award winning Let MC lettings software compliant with RICS and ARLA, to undertake the management of our daily lettings, maintenance, and client accounting.
We are a fully accredited Estate Agent and Letting Agent, giving you peace of mind with a trustworthy service